Best Mattress Online: Your Must Read Guide Before Buying A Mattress In Australia
Which Mattress in a Box is best?
It seems like there's a new bed in a box popping up every other week, so how do you know you're getting the best value mattress in a box? We've compiled a handy guide to help you decide which is the best Australian online mattress in a box.
Externally reviewed and recommended online Mattress in a Box
With so many options on the Australian online mattress market it can be hard to differentiate between the good, the bad (& the ugly!). One of the safest ways to find the best mattress in a box is to look for brands whose mattresses have been reviewed and recommended by external stakeholders.
BedBuyer is Australia's largest and most trusted sleep and bedding comparison site. Their team of health professionals have reviewed over 1500 mattresses and curated collections of the best mattresses, both those available in store and online mattresses.
All three of our mattresses have been tested, reviewed and recommended by BedBuyer.
"The Zeek Original Mattress is has a nice, firm feel and offers good spinal support
Partner disturbance is pretty much non existent, one of the advantages of a mattress with a 'foam only' construction.
The Zeek Original Mattress is a well rounded, firm mattress that offers good value for money. Its compatibility on an adjustable base makes it more versatile than many of its competitors"
"The Zeek Hybrid Mattress is a very comfortable mattress that offers great value.
These foam layers have oodles of comfort, and absorb bodyweight beautifully. Furthermore, the mattress responds nicely to normal body movements during sleep.
These components offer good back support and should accommodate people of most sizes. The spring unit feels well balanced, stable, and partner disturbance is minimal.
The Zeek Hybrid Mattress is an excellent mattress, particularly if you prefer a softer feel. It is well made, and is compatible with an adjustable bed base."
"The Zeek Bunk Mattress is a great kids mattress that offers excellent back support for kids. It has a low profile height (15 cm), making it ideal for bunk beds.
Based on our testing, our team rated this mattress as a 'medium-firm' feel which is our general firmness recommendation for kids.
A very nice option in the kids mattress market, particularly if your kids use a bunk bed. The Zeek Bunk Mattress made it into Australia's Top 5 Kids Mattresses in 2021!"
Designed in Australia by mattress experts
When purchasing your next mattress whether that be an online mattress in a box or a an in-store purchase, we recommended looking for a brand whose focus is on designing great, quality mattresses for Australians.
Invest in your self and in better sleep with an Australian designed mattress.
How to find the best mattress for back pain
If you're suffering from back or neck pain, it's best to talk to your doctor before buying a new mattress so they can help you find the right level of firmness.
Although firm mattresses have been promoted to help back pain in the past, this is not always the case and it's best to get a personalised recommendation to suit you.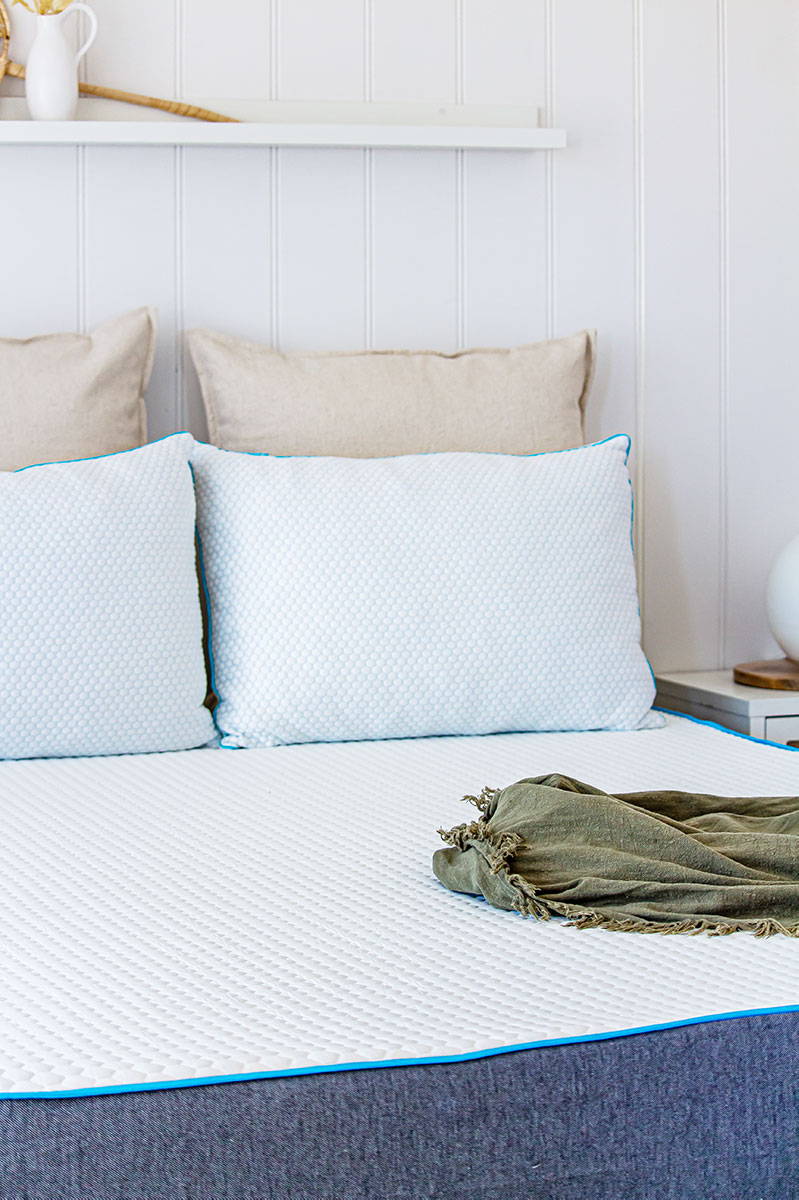 Buy a mattress online with a sleep trial
One of the big differences in online mattress in a box retailers and traditional mattress stores is the ability to 'try before you buy'. What is comfortable for one person, may not be the best for you, so how can you find the ideal mattress for you?
Look for brands who offer a lengthy and risk-free at home sleep trial. This means you can set up and sleep on your new mattress for an extended period of time in the comfort of your own home. Zeek offer a 100 night risk-free trial on all mattresses. You can read more about our mattress in a box sleep trial here.
Plus if you're located in Western Australia, you can check out our Zeek mattresses at ComfortStyle stores too! Find your local here.
Find a mattress with a long warranty period
Find a mattress in a box with a strong warranty and you know you're onto a winner! Not only does a good warranty period give you peace of mind, it also shows that the brand has confidence in their product, their craftmanship and quality.
You can find out more about Zeek's 10 Year Mattress Warranty here.
Types of mattress in a box
There are some online mattress brands that only offer one mattress which they believe will suit everyone. Here at Zeek we know that no two bodies are the same so we've designed two mattresses so you can find the mattress in a box that suits your preference and desired level of comfort.
We also went one step further and designed a mattress especially for kids! Give your little ones the support they need for growing healthy bodies with our bunk mattress. Its low profile also make it the ideal solution for bunk beds.
Which Mattress in a box should you choose?
We offer a gel memory foam mattress in a box along with a Hybrid option which pairs pocket springs with gel memory foam for added comfort.
The Hybrid mattress is a great choice for anyone looking for a softer feel, it has been rated 5/5 stars for comfort by BedBuyer.
The Original mattress is ideal for people looking for a firmer mattress feel and almost non-existent partner disturbance!
Both the Original and Hybrid mattresses are available in Single, Long Single, King Single, Double, Queen and King. They are both compatible with adjustable bed bases, making them some of the few mattress in a box options available for adjustable beds.
Still have questions?
Do you still want to know more? That's totally fine! We understand that deciding on your new mattress can feel overwhelming which is why we're here to help. Head on over to our contact page or email us at sales@zeek.com.au with any questions.  
"The Zeek Hybrid Mattress is simply beautiful to lie on! The mattress also provides good spinal support and despite the generous level of pressure relief!"
"The Zeek Original Mattress... has excellent spinal support, and virtually no partner disturbance... There is certainly no sinking or dipping, and you won't be bothered by a restless partner – partner disturbance is pretty much non existent!"
Designed with growing children in mind and safety regulations on hand, we're pretty sure we've perfected the bunk mattress! Listed on BedBuyer's Top 5 Kids Mattresses for 2021!
"I still can't believe that such a great quality, thick and heavy mattress fit in that box! I was honestly not expecting such a great mattress to come like this! It's comfortable, soft yet supportive, and as you can see, bounce friendly!!"
Zoe G